The NC1 I/O and NC2 I/O studio NDI converters are all capable of sending key/fill from its SDI outputs, from an alpha keyed 32-bit NDI source.

It is also possible to configure a PC running NewTek Connect Pro for key and fill, however it can only be used on a compatible SDI interface adaptor such as the Blackmagic Design Decklink Duo v2 or later.

The first thing we will need to do is to confirm you are receiving an NDI source in this correct format with alpha channel enabled. To see this, click on the Overlays button for your selected input and select the "Checkerboard" option. If you are receiving a valid 32-bit NDI stream with alpha, any transparent areas in the image will turn into a checkerboard pattern.




Next, you will first need to determine if your NC I/O is a Mark M or a Mark D model. You can find this by clicking on the main window Settings icon, and "Mark M" or "Mark D" should appear next to the software version information.


Please take note the pairing combinations for your particular unit:

These will be your key/fill pairs. Please see the table below for the possible outputs that can be used for Key, and their corresponding outputs that will send its Fill signal.

Mark D:

Mark M:

Configure your source to output to the desired SDI Out channel for Key. You should then have additional options under "Video Format" for selecting "video and alpha". Selecting this will activate the keyed output pairs, sending Key to the selected SDI output and Fill to its corresponding paired output.



It is important that both outputs in the pair have been configured for output, and are not used by any other input source.

For NewTek Connect Pro, these same steps also apply however you will need to first assign the Key/Fill pairs beforehand - for Blackmagic Design cards this is done through the "Connectors" tab in the Blackmagic Desktop Video utility: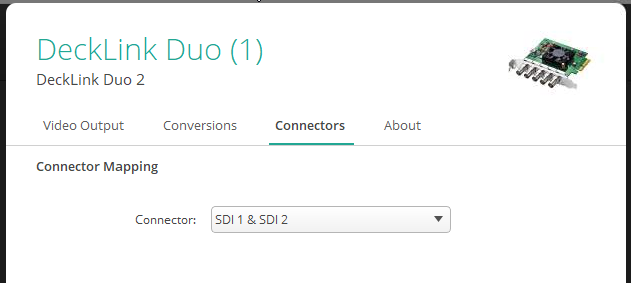 After this, you should be able to specify one of these outputs and select "video and alpha" as per the instructions above.